I made this for a close friend. Her baby was born in Aug and I finished it a few weeks after he was born.
I used this block pattern to make the entire quilt top:
http://happythings.typepad.com/happythings/2007/05/scrap_strips_sq.html
(I love her blog, you should totally check it out!)
When it was done I found it kinda plain so I appliqued a car in the corner.
I actually had the whole thing pinned and ready to quilt about a week before he was due but could not decide how to quilt the thing. I am usually just a free motion quilter but the layout of the quilt top just didn't "say" free motion to me. So I thought and thought. I finally decided to attempt quilting each panel in free motion, with a car shape also. I drew out the car shapes with a disappearing marker and got to it.
I then pieced the binding out of leftover fabric. I love the different colors in the binding, I might do that again. I gifted it to her and she seemed to like it. Plus, I was over there a few weeks ago and had to run and get something from the baby's room. The quilt was lying on the rocking chair in his room.
(Who knows, she could have done that just before I got there. But at least she cared enough to make the effort.
)
So here is the finished quilt: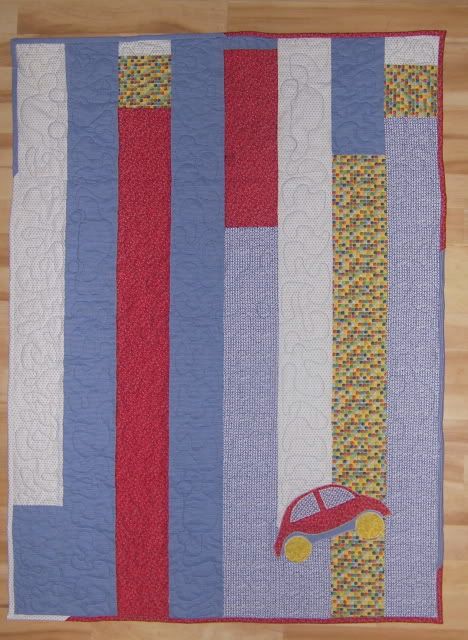 Close-ups of the car stitching:
The car applique:
You can see the backing flannel fabric here: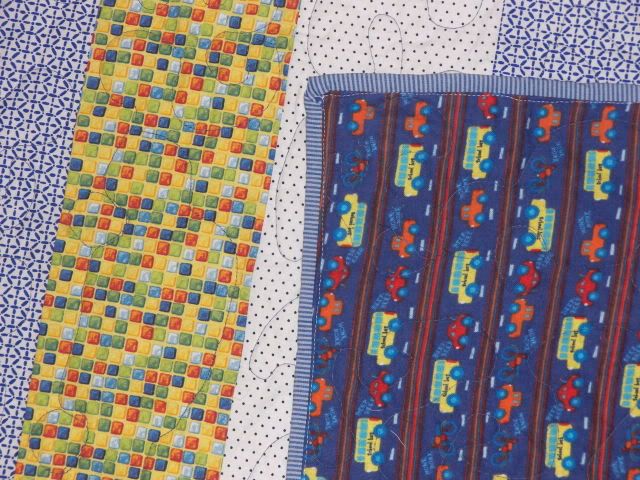 And here is is after pinning but before quilting: